As many recently traveled to Colorado Springs for the annual AAO Convocation, I wanted to take the opportunity to update the OMC community on all the amazing things happening at the center.  
Education:
We have several very exciting upcoming events!  This April we have one opportunity to earn CME and learn a new approach to incorporate into your practice.  The last weekend of April we are so excited to have Dr. Raymond Perrin join us from the UK to teach the Perrin technique.  This will be a two day workshop focused on Dr. Perrin's approach to patients suffering from conditions such as chronic fatigue and long COVID.  
May 12th Dr. Francesco Cerritelli will be presenting via on his research using fMRI to study the effects of manual medicine.  And on June 9th we will be hosting a one day inter-professional workshop on approach to patients with concussions.
(more details can be found on our events page)
Service:
The center has been expanding our reach in service to our local community.  The OMM Student run clinic at the Academic Health Care Center on the Old Westbury campus has restarted and we have now had several successful clinic sessions where under supervision and guidance from an osteopathic physician, students were able to assess and treat patients with a myriad of conditions with OMM.  The feed back has been so positive from both the students and patients.  The clinic is the third Thursday of the month.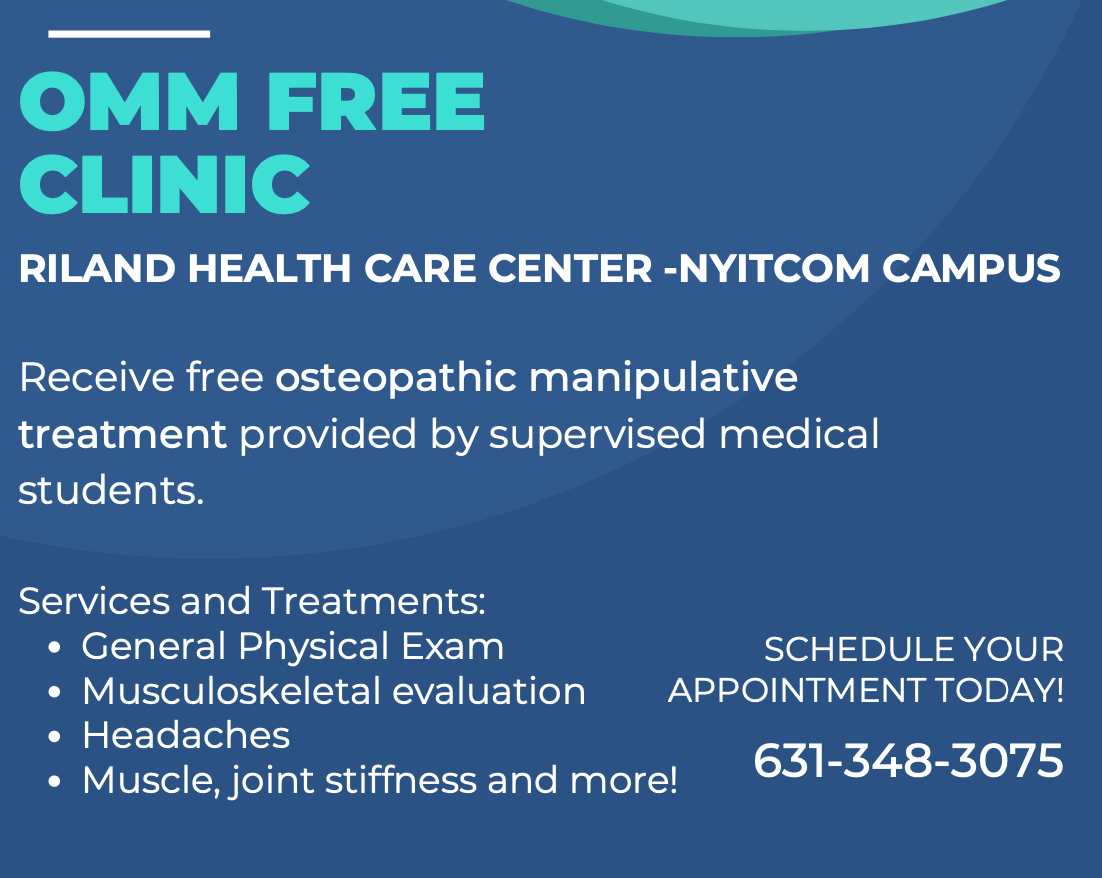 In addition, students from NYITCOM participated in an outreach in March at Adelphi University on Long Island where they were able to connect with local middle school, high school and college students interested in the STEM fields.  This was a great opportunity to connect with students from different backrounds- specifically under represented in STEM- and share with them their journey and some encouragement.  We also did a workshop on the difference between MD and DO and an OMM demonstration.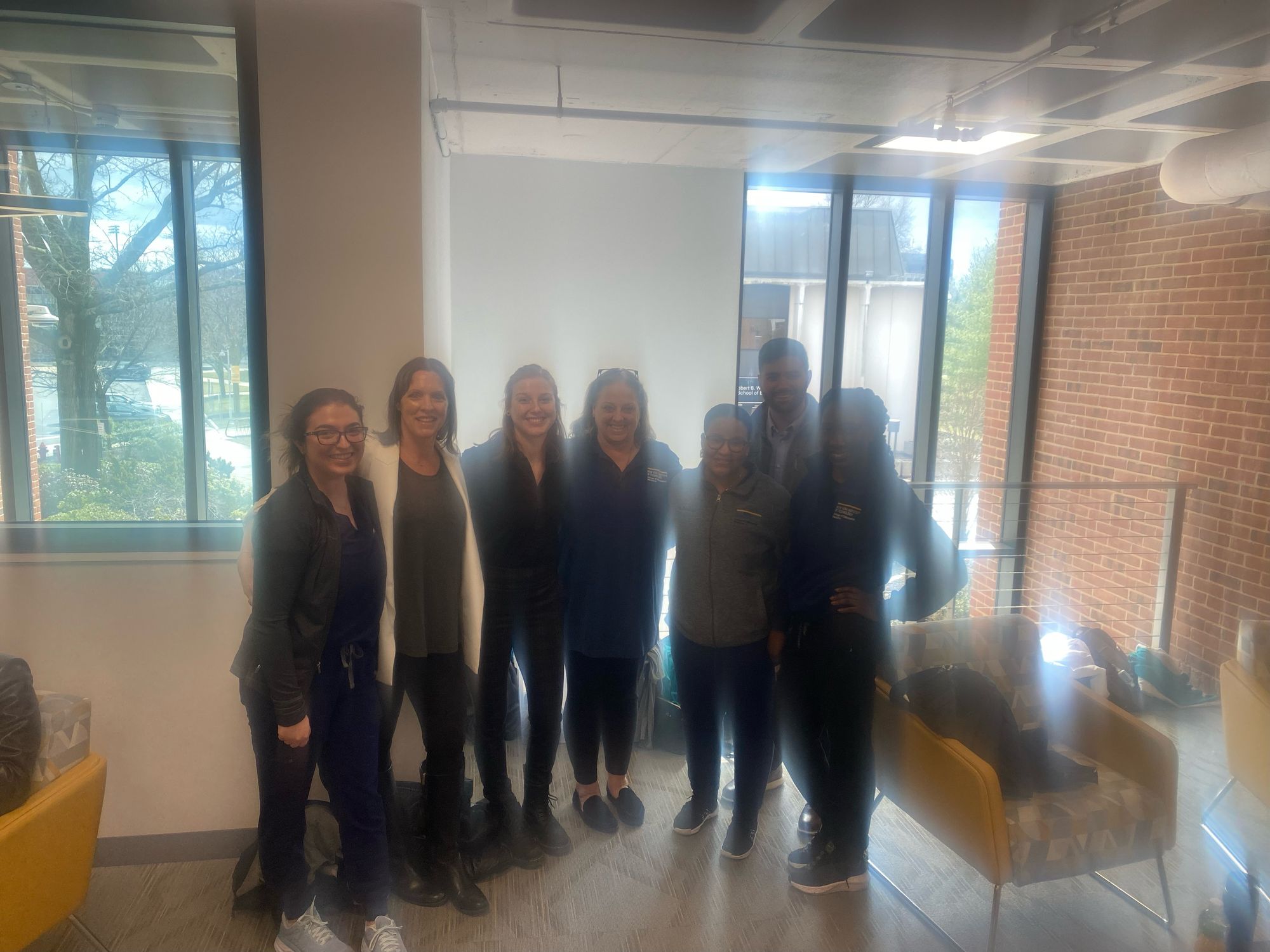 Research:
Lots of exciting new research ventures at the Osteopathic Medicine Center. Four students presented their current research at AAO Convocation Poster Competition and two presented in the annual A. Hollis Wolf Case competition.  Below are the specifics on these presentations:
Louisa Burns Osteopathic Research Committee – NUFA Poster Presentations
Student Case Study category:
Kaitlin Unser, OMS3, Sheldon Yao, DO, FAAO, "Effects of Osteopathic Manipulative Treatment (OMT) on Functional Impairment in Limb Girdle Muscular Dystrophy Patient: A Case Report" Awarded 1st place in the student case study category
Grace Macmillan OMSIII, Rachel Radigan OMSII, Alexa Finkelstein OMSII, Sheldon C. Yao, DO, FAAO "Effect of Muscle Energy Technique (MET) on muscle parameters and lower extremity functionality in a Parkinson's Disease (PD) patient: A case report"
Samantha Cornwell, OMS III; Sheldon Yao, DO, FAAO; Reem Abu-Sbaih, DO "The Effects of Osteopathic Manipulative Treatment (OMT) on an Infant with Failure to Thrive (FTT); A Case Study"
Student Research category:
Gianna Petrillo, OMS-II; Weikang Cai, PhD; Jordan Keys, DO "The Effect of OMT on Insulin Sensitivity and Glucose Control in Rodent Models: A Pilot Study"
Nicole Companion, OMS III, Anoushka Guha, OMS I, Abeer Naeem, OMS II, Reem Abu-Sbaih, DO, Jordan Keys, DO, Sheldon Yao, DO, FAAO "Comparison of Tone and Stiffness Changes to Lumbar Paraspinal Muscle with Varying Osteopathic Treatment Modalities"
Student Educational category:
Thomas Jacob, OMS3, Aziz-ur-rahman Khalid, OMS3; Faiz Syed, OMS3, Rejath Jose, OMS3, Kole Nikprelaj, OMS3 , Elisabeth Frankini, OMS4, Sheldon Yao DO, FAAO, Milan Toma PhD " Assessing Differences in Palpation Pressure between Medical Students and Osteopathic Physicians"
A Hollis Case presentations
OW presenter - Nicole Companion - "Postpartum Pelvic Pain"
JB presenter - William Hawkins – "A Shot Left Around the Hip"
Congrats to all!